*Disclaimer: Please note that the effects of our products vary from person to person. The testimonies in this website are provided by our customers and they should not be taken as medical advises. Here is our full medical disclaimer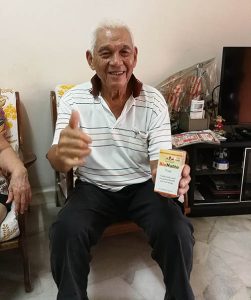 I have high blood pressure up to 180/100 and the doctor prescribe me with blood pressure and cholesterol medicine. After taking the doctor medicine for a few week with I got very bad side effects. I felt very weak and cannot even walk out to the garden. My blood pressure did not decrease and I was very desperate and decided to stop my medication.
I was introduce to BioNatto by a friend and decided to try taking it. After taking 3 bottles, I feel much better and regain my strength. I could continue my daily life and blood pressure drop to 130.
Now I'm very confident with BioNatto and it does not have any side effect like my doctor medicine. With longer time, I hope my health will continue to improve.
*I used to have headaches but since I started to take BioNatto that has stopped. Waiting for my next appointment with the doc to check on my pressure
*I am suffering from angina and insomnia. In Year 2009 one night I could not sleep and barely sleep for 2 hours only, that has been going on for couple of week so I decide to go for medical check up. The result said that my heart is fine but my blood pressure is a little high which is 140/90, so they diagnose me for hypertension. After taking the blood pressure medication for almost 2 year with no improvement so I decide to stop the medication. Most of the time my heart pumping is not stable and I can feel that, but when I tell this to the doctor he said that I am suffering from anxiety. So I do a research in the internet and found natto. After reading about natto I understand that there are many type of natto in the market, so I found bionatto and it from Malaysia, so i can order easily. After taking for 3 months I feel my angina is less a bit, not so much pain. so continue for almost a year I feel that my angina is on and off, and I start to wonder is the bionatto right for me? But I decide to continue further, right one and half year, one morning when I wake up, my upper heart arteries and lower heart arteries tingling, I can feel something is moving in my arteries and after that my heart feel a lot lighter, from that point I know that bionatto is doing its job, if I continue another 2-3 year I think all my blockage will eventually be cleared. Thanks.
*I have improved substantially but my panting and pain still persist when climbing 2 flight of staircase, it is still a problem to me. Hopefully BioNatto can further help to reduce my pain.
*My mother in law has been taking bionatto since last year. After she had stroke, bionatto helped her recovery and reduce the numbness on her legs
*Last year I suffered from DVTs and pulmonary embolism. I sincerely believe BioNatto helps with blood flow to prevent further clots.
*After I consuming bio natto I fill my blood clock reduce. realy amasing produck I already take 3to four bottle ready I will continue this produck tq
*In 2006, I experienced stroke which caused me to be wheelchair-bound. I also had problems lifting my arm and opening the palm. I started taking BioNatto (2 caps in the morning and the evening). After completing 2 bottles, I can slowly lift my arm and open my palm. I feel much better and my overall health condition much improved.
*I felt numbness in my hands and every morning my hands, neck and legs feel very tight. After 1 week after trying bionatto, I can see some improvement my hands and legs feel much more comfortable. Now after continuing for 6 months, I no longer feel any numbness or tightness.
*My whole family taking this supplement for a long while. I personally feel good as my numbness of my fingers gone.
*I consumed Bio Natto since 2014. My blood pressure reading dropped to an acceptable level (according to my age). I feel healthy compared to before and even my colleague notice the changes in my health. Good product…
*I experienced severe chest pain several times at night about 3 years ago. The doctor at University Hospital has advised me to do a heart
by-pass surgery to solve my heart problem. I was terrified of going for this surgery and did a search on alternatives. I found BioNatto
through a friend and started taking it (2 caps in the morning and the evening). After taking BioNatto for the past 1.5 years, my condition
improved dramatically and I experience no more chest pain. In fact, I do not feel safe to go to bed without taking BioNatto!
*my systolic and diastolic reduced by 10 units
*It's improve the BP reading and heal the numbness.
*I am taking Bionatto and my blood pressure is improving ..confirm by my doctor during my last checkup..keep taking ….thanks.
*I had bad liver index and high cholesterol. Before bionatto, I have frequent pain in the chest, hand and legs. I was unable to continue my morning exercise. My doctor ask me to go for heart operation but i was very reluctant. So I try to research and found bionatto. After taking regular for 1 month, my chest, hand and leg pain disappeared. Recently i start to do my morning exercise again. I feel much better and feel no more pain. I even went for blood donation last week.
*Bionatto is good for blood circulation and it helps to cure my morning sickness @ runny nose
*I have been taking prescription medicine to control my HBP (High Blood Pressure) for several years. Although it helped to control my
condition, I have experienced many side effects of the medication. For the past 1.5 years I took BioNatto together with my regular
medicine to control my HBP. In the last 4 months, I took only BioNatto (2 caps in the morning and the evening) to control my HBP and now my blood pressure is perfectly normal. In the cause of taking BioNatto, I realized that my morning numbness and tingling of my hands and feet disappeared.
*I just took bioNatto for about 2 months only. I felt there is improvement in my blood pressure, i hope it will give me further improvement in the coming months
*Disclaimer: Please note that the effects of our products vary from person to person. The testimonies in this website are provided by our customers and they should not be taken as medical advises. Here is our full medical disclaimer
Order BioNatto Now. FREE Delivery.
Testimonials
was last modified:
September 18th, 2020
by